The
Fashion Treasury
PREMIUM BOUTIQUE FOR EXCLUSIVE ITALIAN FASHION
Tesoro is an exclusive club for hand picked, unique italian fashion grabs by italy's best fashion designers with amazing discounts and additional club benefits.
e-Commerce
UX / UI
design
branding
marketing
advertising
optimization
photography
video
The
Story
LUXURY IS THE NEW BLACK
We have to start by saying that we absolutely love italian fashion. When the founders of Tesoro came to us with the idea for an exclusive online store for hand picked, unique italian fashion grabs we were up for it in a heartbeat. But they only had an idea. We had to develop a completely new business model for selling luxury fashion items and a digital marketing strategy with retention at its core. Without a way to retain customers we knew the business is completely doomed. Then we had to take care of design, development, product photograpy, video production, all marketing campaigns and the fulfilment process.So we broke it down in 8 parts like Voldemort's soul and started executing.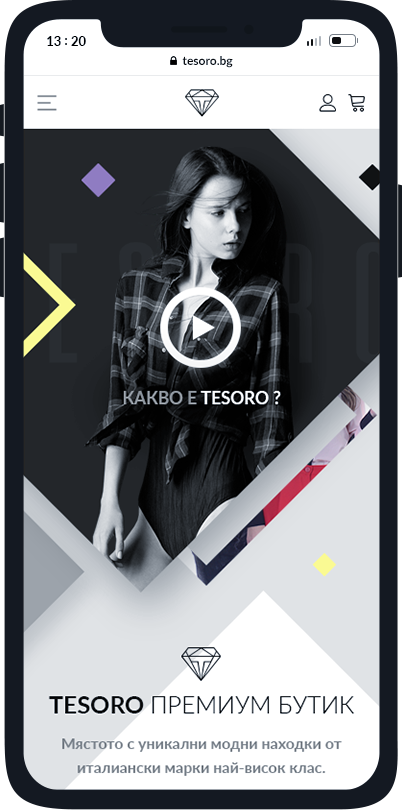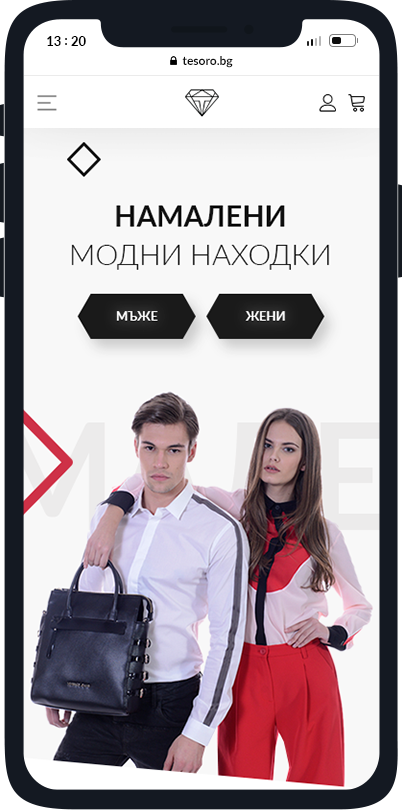 The
Challenges
Folks just don't buy many luxury goods online. Especially from new and completely unknown brands that just popped up on the market.

The fashion market online is extremely competitive which is pushing margins way down. That in turn puts a lot of pressure on the marketing campaigns.

We had a really low budget for pretty much anything so if any of our 8 sub-projects went wrong we would be in big trouble. There was no margin for error.

The first shipment of clothes was already purchased putting a clock on the whole project because nobody really wants to buy yesterday's fashion. It's not really "a la mode".
The
Goals
Money was not enough. Time was not enough. A lot of things we depended on were out of our hands. We had to figure it out and make it happen. Somehow … oh and everything had to look expensive, high-end and luxury.

We had to figure out a way to spread the word without spending money for advertising. Get some customers and find a way to keep them coming at a really low price.

We had to start selling immediately because the business depended on getting the money from the first shipment of clothes back into circulation.
Tesoro
Club
The idea was to bring the first customers in with a massive pre-launch hype campaign on social media with the help of fashion influencers. But that was only half of the equation. Once they buy something with their first order they become members of the Tesoro Club and get a fancy club card which gives them discounts in our partner network of hotels, fancy restaurants, luxury car dealerships, and other partners. This is how we provided additional value and the feeling of exclusivity to the customers and earned their love. Also by utilizing partnership deals we managed to bring people in and keep them coming back.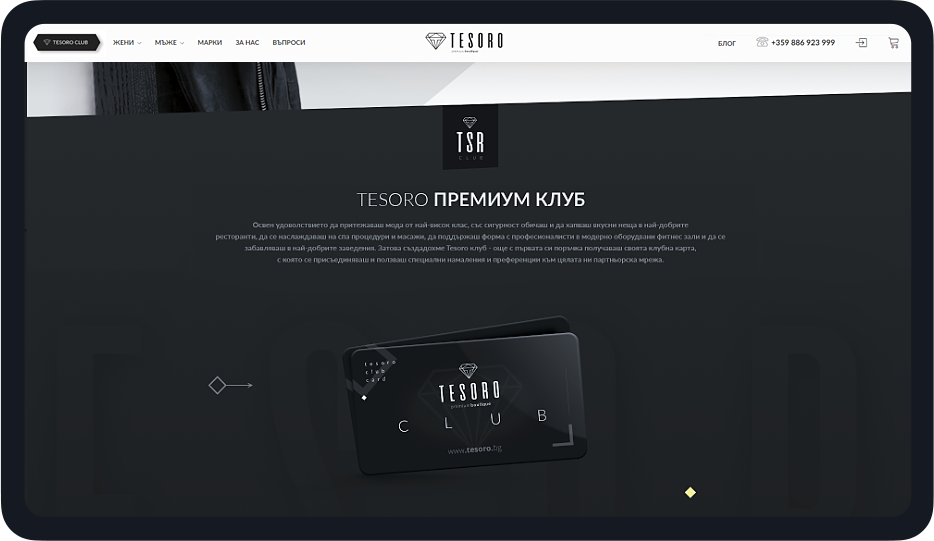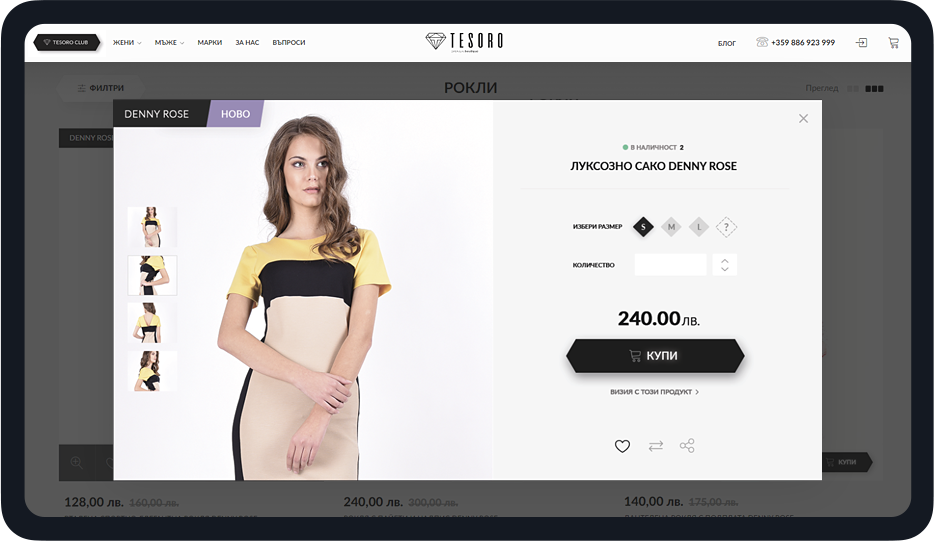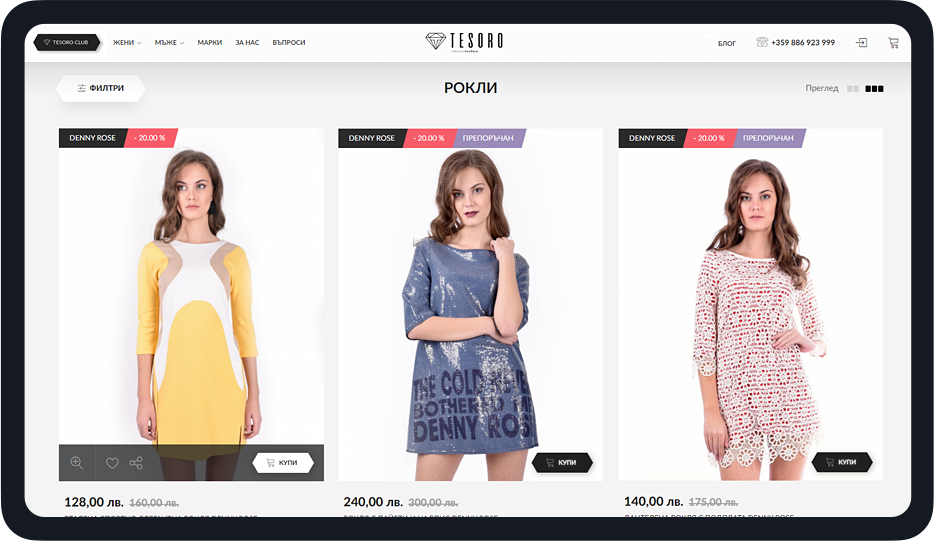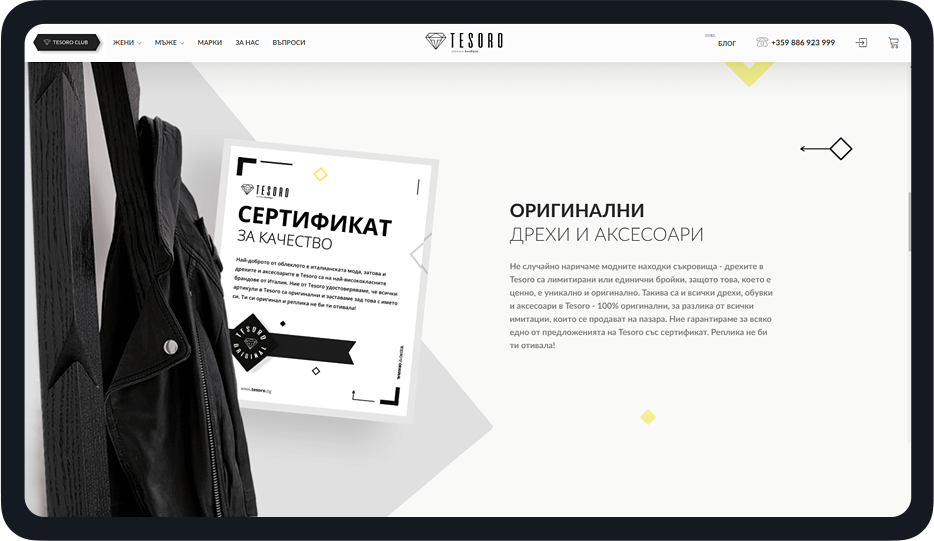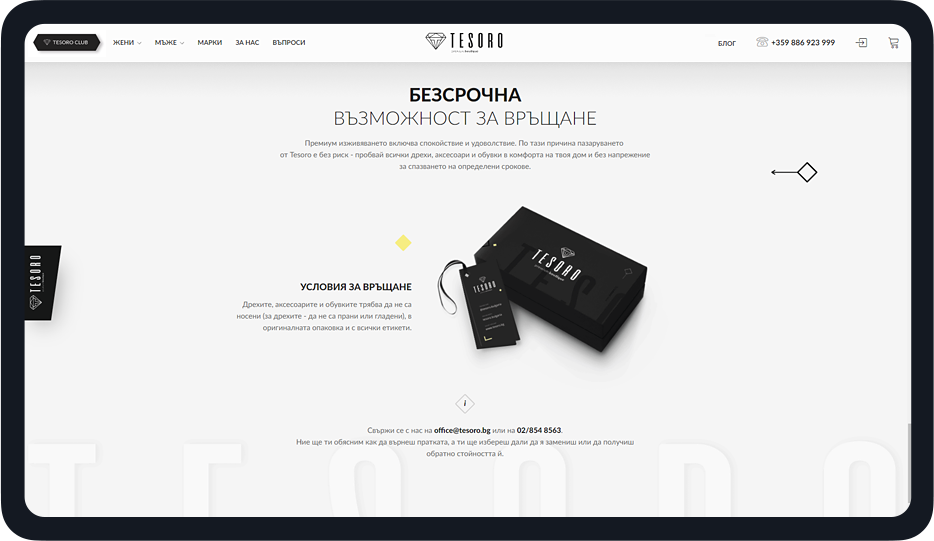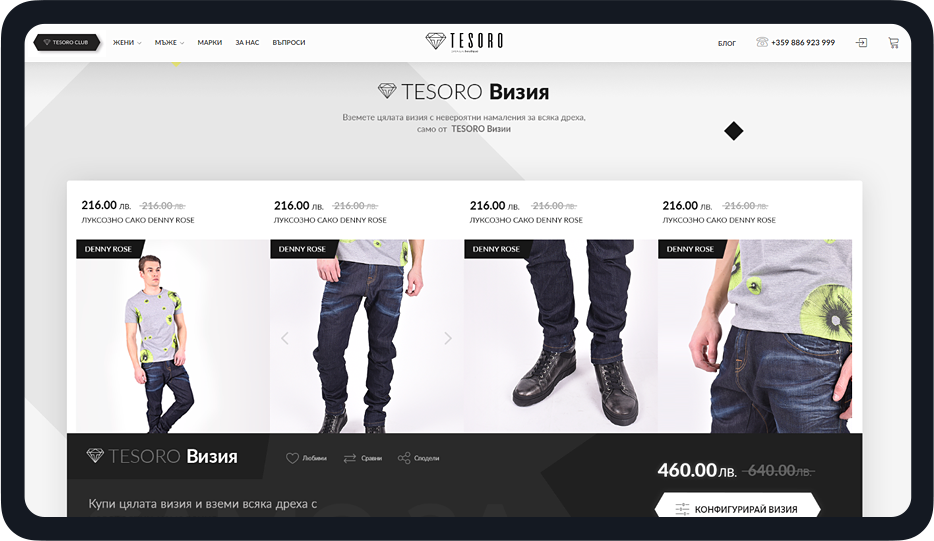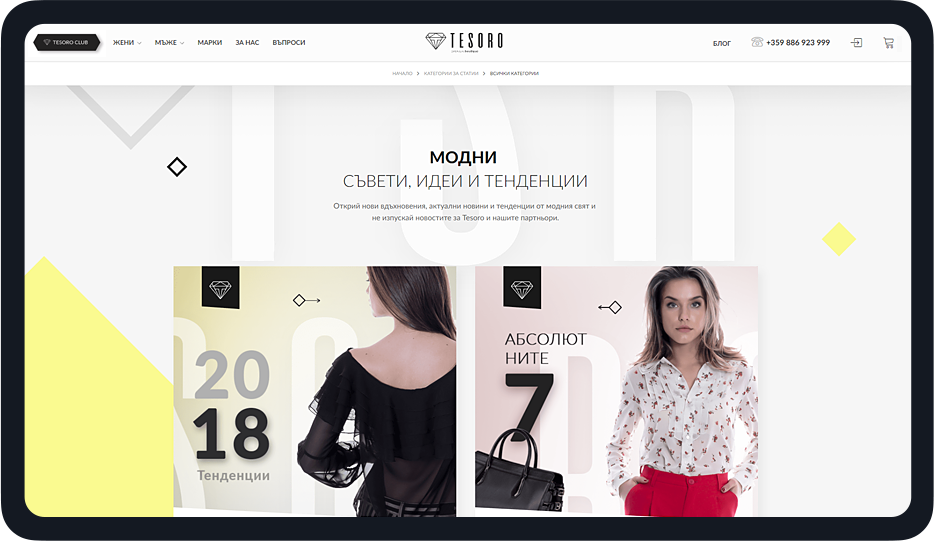 The
Hype Campaign
Tesoro literally means treasure in italian. The whole thing is a treasury. So the pre-launch campaign offered people the chance to "rob the treasury" 7 days before anyone else had access. But only if they signed up for our mailing list and spread the word by sharing. All that made sense only because everything in the store was very limited in quantity. It worked so well that the first order was made seconds after the launch of the store by a girl who saved money for 1 specific dress during the entire campaign. It was the "Cold never bothered me" blue sequins covered dress by Denny Rose from the video below. Just in case you were wondering.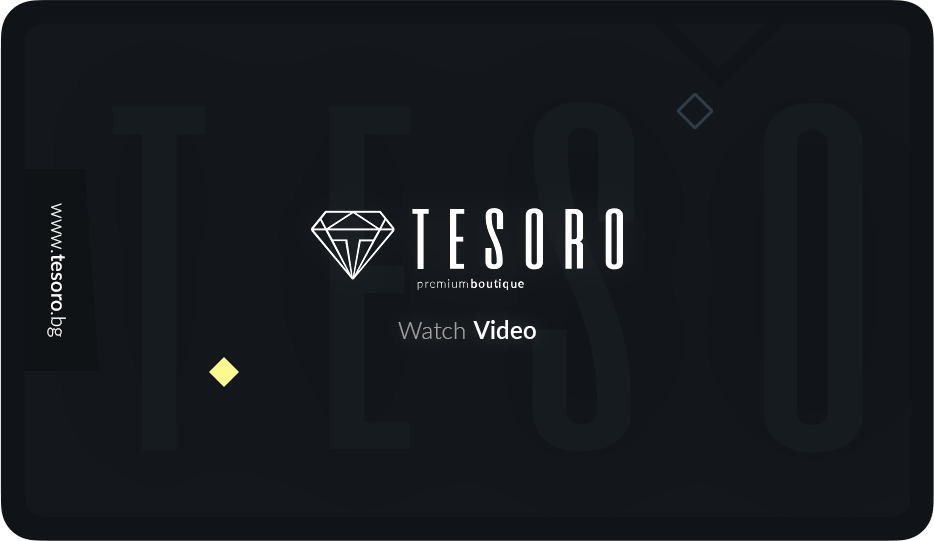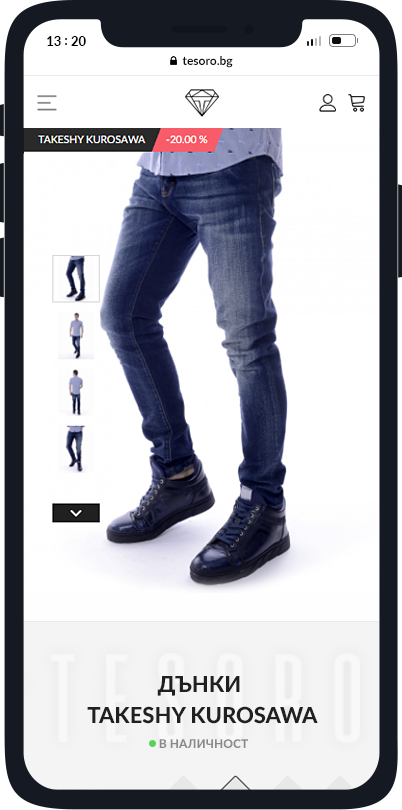 Top Three

Interesting Facts

Due to a small lack in budget all the people in the video campaign were from our team and friends. And we had to make a club look full with just 15 people, a smoke machine and some very creative camerawork.

During the photosession we had to shoot so many things in a day to fit the budget that the models had to change their outfit every 120 seconds.

The development company that had to implement our design turned out to be completely incapable of doing so. We had to change them mid-project cutting our already short timeline in half. But we still figured it out and made it work!
The
Results
Everything is well when it ends well. We managed to complete everything in time and within budget. We overcame all odds launched the brand got the first customers through the door and figured out a way to keep them coming. Competitors hold on to your market share! Tesoro and the Startup Masters are coming for you.
A beautiful new brand was launched
and the best is yet to come

Hristo
Sidov
Chairman of the Board
"We had our fair share of worries and troubles. But in retrospect I don't think any other company would have achieved the same result with the budget that we had. The name Startup Masters really fits them. They are incredible!"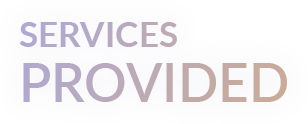 Business Model
Marketing Research & Strategy
E-commerce Design
Custom Tracking Infrastructure
Omni Channel Marketing
Influencer Marketing
Custom Retention Strategy
Team & Management Training
Video Production
Product Photography
Growth & Scaling Strategy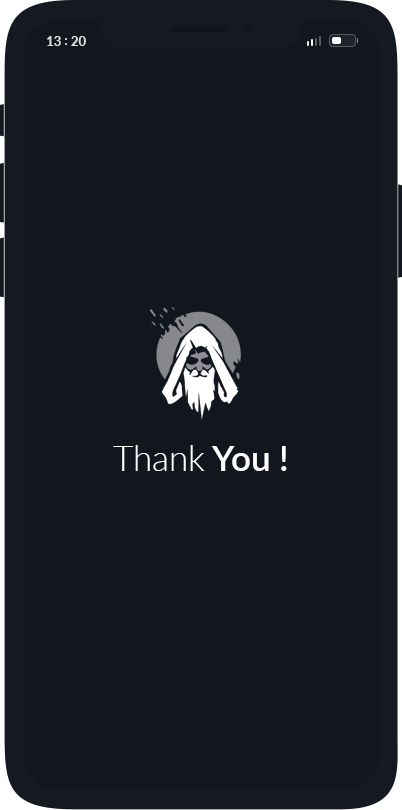 Learn How We Did it
Join our Masters Academy and learn the secrets of The Digital Performance Marketing.
Learn More