Masters
Academy
FREE 3 Day Trial Period
Master digital business & marketing strategy, advertising, social media marketing, email, content marketing, SEO, analytics & optimisation, automation, growth & competitive strategy.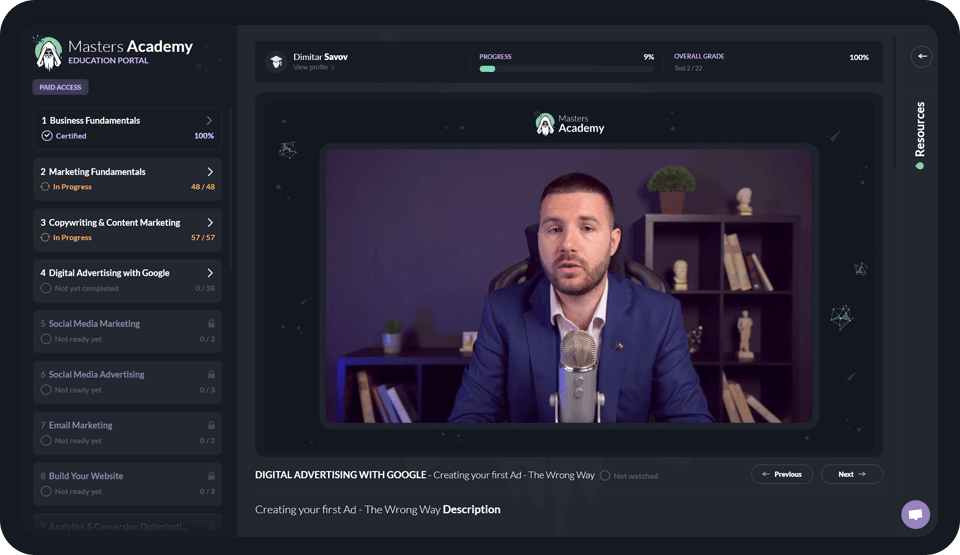 course program
150+ Hours of Video Content
Includes Certification

Business Planning & Strategy

Business planning
Growth Strategy
Products & Services
KPIs
Customers
Team
Value Proposition
Vision & Mission

Includes Certification

Marketing Planning & Strategy

Marketing Strategy
Market Research
Segmentation
Targeting
Channels
Branding
Competitors
Customer Journeys

Includes Certification

Copywriting & Content Marketing

Ad Creatives
Messaging
Blogging
YouTube
Traffic Generation
Content Promotion

Includes Certification

Digital Advertising with Google

Google Ads
Search Ads
Display Ads
Google Shopping
YouTube Ads
Remarketing
Optimization
Scaling Campaigns

Includes Certification

Social Media Marketing

Facebook
Instagram
Linkedin
Snapchat
Twitter
Pinterest
Quora
Reddit
Chatbots
Influencers

Includes Certification

Social Media Advertising

Facebook Ads
Instagram Ads
Linkedin Ads
Twitter Ads
Optimization
Facebook Blueprint

Includes Certification

Email Marketing

Customer Acquisition
Lead Generation
Sales Emails
Retention
Email Flows
Personalized Journeys

Includes Certification

Build Your Website

Website Planning
Sketching
Development Cycle
Tracking
Security
Website Speed
Launching
Indexing

Includes Certification

Analytics & Conversion Optimization

Data Collection
Statistics
Segmentation
Reports
Analytics
CRO
A/B Testing
Data Activation

Includes Certification

Search Engine Optimization

Keyword & Competitor
Ranking Factors
On-page SEO
Link Building
Mobile & Video
SEO Tools
SEO Checklist

Includes Certification

Marketing & Business Tools

Business Tools
Marketing Tools
Ecommerce Tools
Advertising Tools
SEO Tools
Email Tools
Technology Stacks

Includes Certification

Ecommerce Mastery

Ecommerce Planning
Online Store Creation
Management
Growth
Optimization
Scaling

Includes Certification

Product & Service Development

Business Models
Pricing Models
Agency Models
Freelancing
Partnerships
Subscriptions

Includes Certification

Lead Generation & Sales Mastery

Lead Funnels
Sales Funnels
Closing Techniques
Negotiation
Sales Tools
Social Engineering

Includes Certification

Building & Managing Your Team

Team Structure
Accountability
Communication
PM
SCRUM
Execution
Hiring & Firing
Leadership

Includes Certification

Advanced Business Strategy

Business Economies
Retention Strategies
Scalability
Management
Mergers & Acquisitions
Disruptive Innovation

Includes Certification

Advanced Marketing Strategy

Differentiation
Growth Hacking
Franchising
Globalization
Gamification
Propaganda

Includes Certification

Competitive Strategy & Growth

Game Theory
Competitive Analysis
Industry Research
Stakeholders
Competitive Matrices
R&D
Global Competition

Includes Certification

Execution Automation & Efficiency

Communication
Workflows
Fulfillment
Marketing
HR
Processes
Manufacturing
AI
Machine Learning

Includes Certification

Incorporation Legal & Accounting

Corporation Set up
Accounting
Taxes
Money Management
Intellectual Property
Contracts
Investors & IPOs
Download Program PDF
All in 1 comprehensive Practical online course!
Learn from expert practitioners, get a digital marketing job, start or grow your online business, create your online store, work from home as a freelancer or start your
digital agency.
One Time Payment.
Lifetime Access.
Online at your own pace.
What You Will Learn ?
The difference between good marketers and great ones is that good marketers can do some or most of these things while great marketers can do all of them.
How to Make RealisticMarketing & Business Plans

How to Write Good Marketing Copy

How to UseContent Marketing

How to Make Successful Advertising Campaigns

How to Grow With Social Media Marketing

How to Make SocialAdvertising Campaigns

How to Use Email for Sales & Retention

How to Build a ConvertingWebsite For Your Business

How to Analyze & OptimizeAny Digital Business

How to use SEO toGet Traffic for Free

How to Use All ModernMarketing & Business Tools

How to Create Online StoresThat Sell all Over the World

How to Make Your Products and Services

How to Do YourLead Generation & Sales

How to Build and ManageYour Team Like a Pro

How to Use StrategyTo Improve Your Business

How to do Growth HackingTo Get More Customers

Use Competitive StrategyTo Smash Your Competitors

How To Execute EfficientlyWith Business Automation

How to Start Your OnlineBusiness from Scratch

How to Get a Highly PaidJob in Digital Marketing

How to Work from HomeAs a Freelance Marketer

Get Professional CertificatesFrom Google & Facebook

Get a Masters CertificateFrom Masters Academy
View Full List
Learn Marketing With
Once you learn the fundamental secrets of business and marketing you will be able to include any platform or tool in your strategies.
Course Certification
When you complete the course and practical exercises you can receive your certificate of excellence by scoring higher than 80% on the final exam. You will also get individual certificates for each of the 20 courses. Also when you complete the trainings on Social Media & Advertising you will have the additional opportunity to get official certification by Google and Facebook and you will be recognized as an expert in their advertising platforms.
View Certificate Example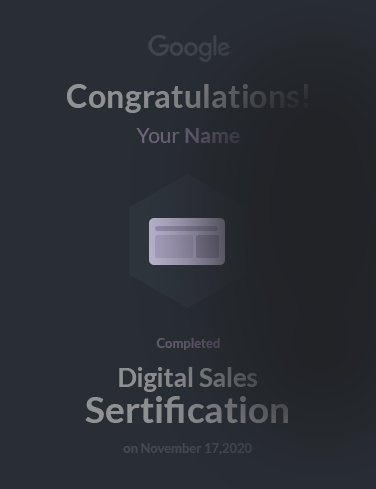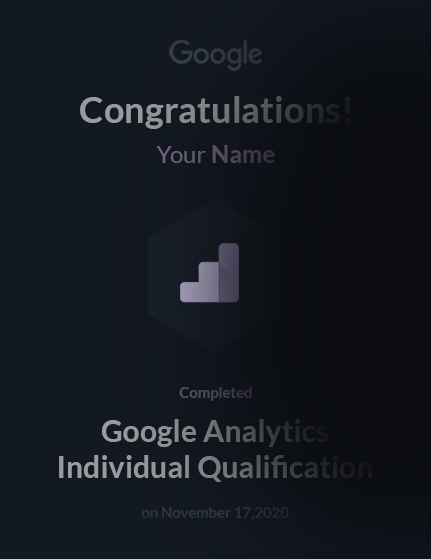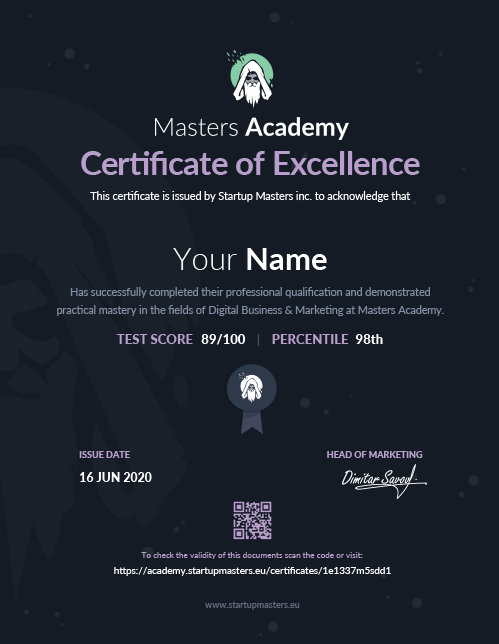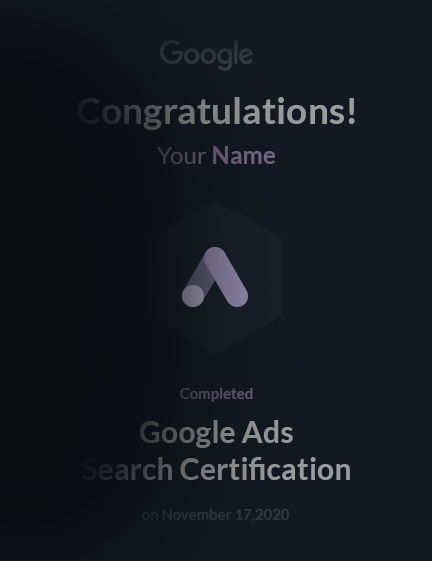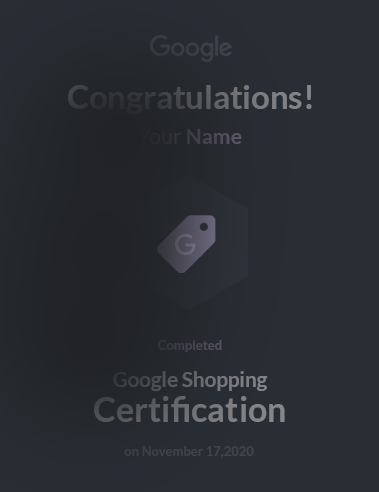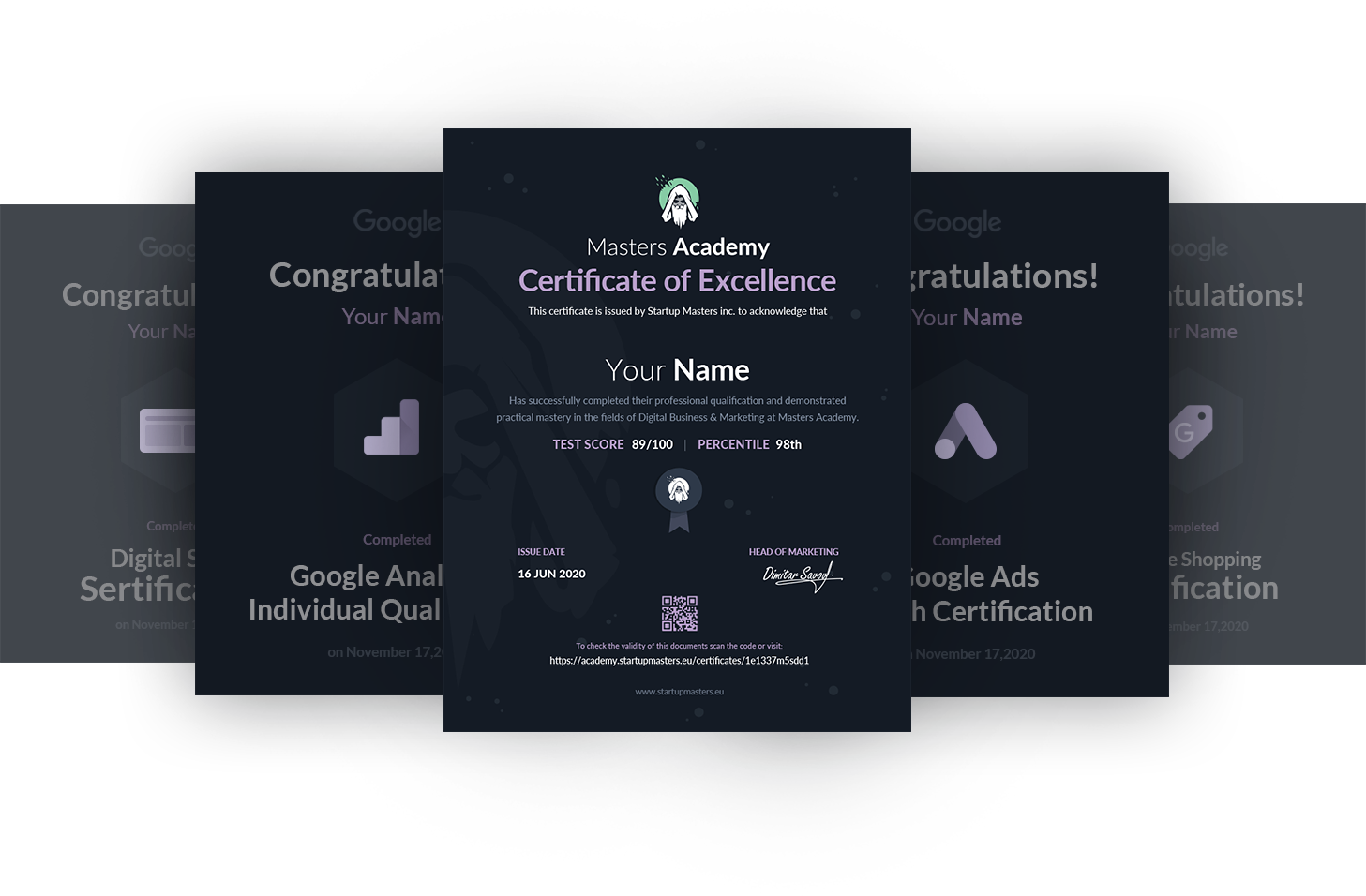 Private Community
As soon as you enroll in Masters Academy you will be invited to our awesome private discord community where you can meet all other students and discuss your ideas with them, ask questions, get feedback, find potential partners, coaches, advisors, co-founders and even investors!
You've been invited to joinMarketing Topic
You've been invited to joinBusiness Strategy
You've been invited to joinAdvertising Skills
You've been invited to joinAnalyze, Optimize & Grow
You've been invited to joinGet Traffic for Free
You've been invited to joinSell all Over the World
You've been invited to joinGrowth Hacking
You've been invited to joinBusiness Tools & Technologies
You've been invited to joinConverting Marketing Copy
You've been invited to joinBusiness Plans
You've been invited to joinBusiness Strategy
You've been invited to joinGrowth Hacking
You've been invited to joinBusiness Plans
You've been invited to joinGet Traffic for Free
You've been invited to joinBusiness Tools & Technologies
You've been invited to joinAnalyze, Optimize & Grow
You've been invited to joinSell all Over the World
You've been invited to joinAdvertising Skills
You've been invited to joinMarketing Topic
You've been invited to joinConverting Marketing Copy
Unique Benefits
No other training course provides so much content, so many excercises, so many tools, projects, resouces, tasks & educational materials.
20 Main Courses 100+ Hours of Video

20 Practical Excercise Sessions

20 Live Q&A Sessions

Custom Made Education Portal

Learn by Doing Quests Tasks, Projects & Exams

22 Invaluable & Exclusive Tools Made by Us

100s More invaluable Tools Made by Others

100s Irreplaceable Downloadable Resources

Access on the Web, Tablet & Mobile

Lifetime Access to Course Updates

Keeping up to date With the Latest Trends

Fast & Friendly Customer Support

Certificate for All skills and abilities

Access to an Amazing Community

Create your own Store or Digital Agency

10x your existing Business' Revenue
View Full List
Startup Masters in Numbers
Since Startup Masters launched in 2014 we have worked with clients from 6 different continents and have launched digital marketing campaigns in 65 Countries. When you enroll in the Masters Academy you will learn how we did every single thing to achieve these numbers.
Results for All our Campaigns
$517 M +

Revenue Generated
for Clients

$43 M +

Spent in Digital Advertising
Campaigns

7, 782 M +

Ecommerce transactions
Performed

824 K +

Highly Qualified Leads

586%

Overall Increase in
Organic Traffic

613%

Overall Increase in
Ad Traffic

329%

Overall Increase in
Revenue

174%

Overall Increase in
Conversion Rate

376%

Overall Increase in Ad
Responses (CTR)

38%

Overall Decrease in
Bounce Rate

65%

Overall Decrease in PPC Cost
Per Acquisition

78%

Overall increase in Avg.
Order Value
Our Partnership Network
To be the best you need to work with the best. We at Startup Masters are certified partners with some of the largest players in the digital world.
The Startup Master's Tools
We will also provide you with invaluable business planning, strategy & marketing tools you can use to both create and grow your own business or the company you work for. The majority of these tools are invented by us so you cannot find them anywhere else!
THOSE INCLUDE 23 UNIQUE TOOLS
The Business Sudoku Calculator

Grow unlike anyone else

This tool helps you calculate the exact profits, costs & expenses of a given product or service. It helps you form your pricing and calculate what you can afford to spend on marketing.

One Day Business Accelerator

Examine your business for growth

A strategic tool that helps you evaluate every aspect of your digital business in order to identify bottlenecks and focus your attention on the most important things.

Competition Demolisher Tool

"Take Care" of Your Competitors

This tool helps you define your competitors, advantages & disadvantages, position yourself on the competitive matrix and understand where are the gaps in the market you can take easily.

The Rockefeller Habits Management Tool

Manage like a Magnate

Manage your team using John D. Rockefeller's habits that he swears were the secret behind the success of his business empire. They're quite hard to keep but awesome nonetheless!

Customer Journey Planning Tool

Awesome Customer Experiences

This tool allows you to create amazing customer experiences that will leave your customers satisfied, asking for more and advocating your products or services to their friends.

Marketing Messaging Planning Tool

Build customer conversations

It is not easy to create a digital experience as fluid as a human conversation. This tool allows you to craft your messaging in such a way that customers feel they speak to a human.

Online Stores Growth Checklist

10X E-Commerce Profits

This tool allows you to check if you have covered all your bases and your online store has all the necessary parts to sell well and leave customers with a great experience.

Digital Services Growth Checklist

10X Your Service Profits

This tool shows you the leverage points you can use to increase the profitability of any digital services business and allows you to calculate the impact of each one.

The Anatomy of an Online Order

Understand your supply chain

This supply chain evaluation tool allows you to improve your supply chain and customer experience by understanding all the steps your product or service goes through.

The Business Auditing Checklist

Audit your Digital Business

Critically examie every single part of your digital business from the supply chain to marketing, operations, tech infrastructure, customer retention and many more...

Team Functions Accountability Tool

Manage teams based on KPIs

Make sure you have the right people in the right seats doing the right things this tool allows you to set laser accurate targets for each team meber based on business KPIs.

Customer Segments Profiler & Targeter Tool

Laser Sharp Targeting

Identify your customer segments and target them with precise criteria ensuring low customer aquisition prices for all your marketing efforts.

Mission, Vision & Values Communication Tool

Unite Behind 1 Common Purpose

This tool allows you to clearly define your company's mission, vision & values so that your entire team is aligned and pushes in the same direction as you … united behind 1 common purpose.

Startup Masters Cashflow Optimizer

Weather the storms with ease

Having enough cash to weather the storms is critical for any business. Using this tool you can increase the money avalable to you so you can move faster or increase safety.

Comprehensive SEO checklist

Cover all your SEO Bases

Many checklists like that have been done by many a guru and agency. We read and tried em all and so we compiled the master SEO checklist of checklists.

Company Valuation Tool

What's it worth?

The company valuation tool helps you precisely estimate the valuation of your company the way that an investor would … but without missing anything that might hurt your valuation.

Expenses Management Tool

Keep track of your expenses

Understanding your expenses helps you plan your moves carefully and helps you set the right targets for your business.

Digital Marketing Technology Stack Tool

Plan your technical infrastructure

Ads Software, Tracking Software, Ecommerce Software, Payments, Analytics, Websites, Apps, Project management software, shipping, accounting … it needs planning! It really does!

Career Path Builder Tool

Turn Career Growth into a Game

The career path builder tool allows you … as you might imagine ... to build career paths for each position in your company in such a way that employees strive to climb the ladder.

Business World Stakeholders Tool

Get to know all the players

Your business depends on many players. The suppliers, the payment processors, the marketing software players, the media, lawmakers and more. This tool helps you understand all that.

Startup Masters Differentiator Tool

Calculate Unit Economics

If you just follow what your competitors are doing you are doomed. This tool helps you differentiate your strategy so you can win by being different.

Channels & Placements Marketing Planner tool

Where and how to spend the $$$

The channels and placements tool allows you to plan where you will put your marketing dollars as well as set expectations for each campaign and plan your marketing return on investment.

The strategy Chess Board

Keep track of all your moves

We often make move after move without thinking. Then we go back and repeat mistakes we have done in the past. The strategy chess board helps you go forward at all times.
View Full Tools List
The Largest Library of
Business & Marketing Resources
You also get completely free access to our gigantic resource library full of example strategies, case studies, books, research, free tools, contact lists, PR lists, reading lists, additional course recommendations as well as a collection of invaluable business & marketing resources created by others and our own community.















TrainingPortal
We have created a Custom made training portal where each segment of the course will have its own Q&A session and Exercise section where we show how the theory we teach works in Practice with examples from real world businesses including both successes and failures. The portal also has additional quests, tasks, projects, exams & learning materials for you.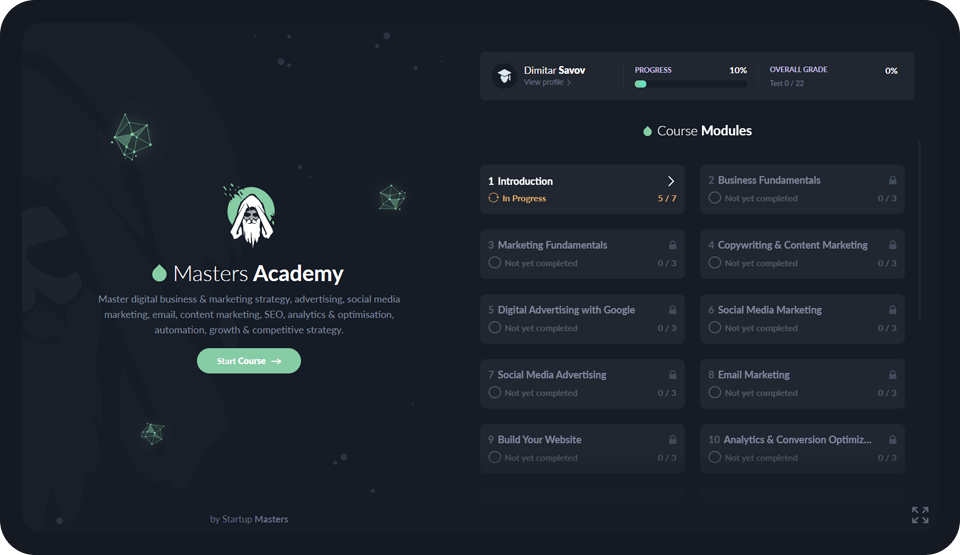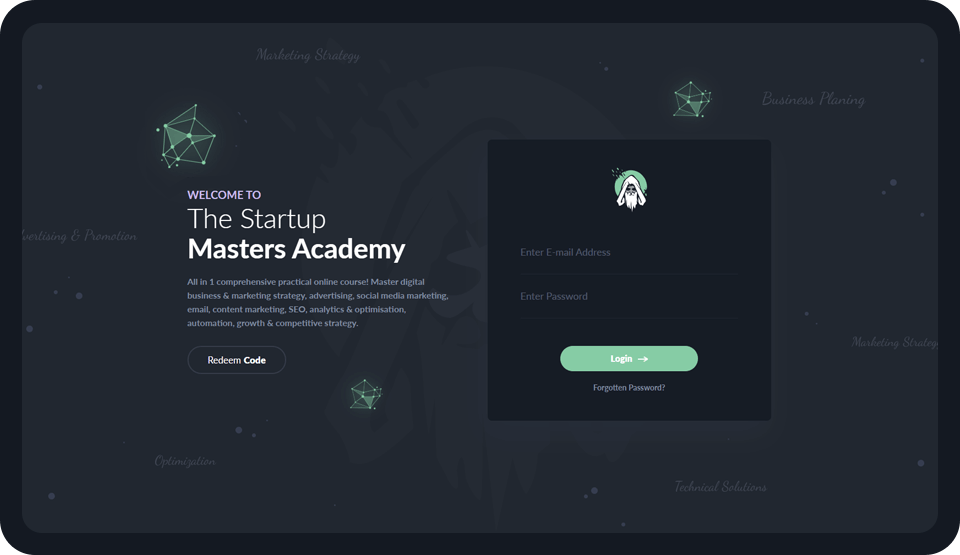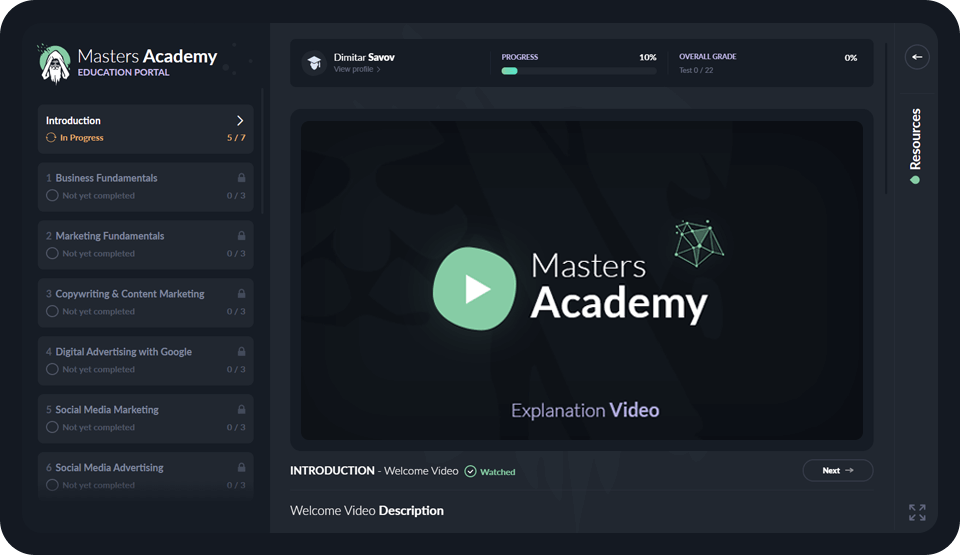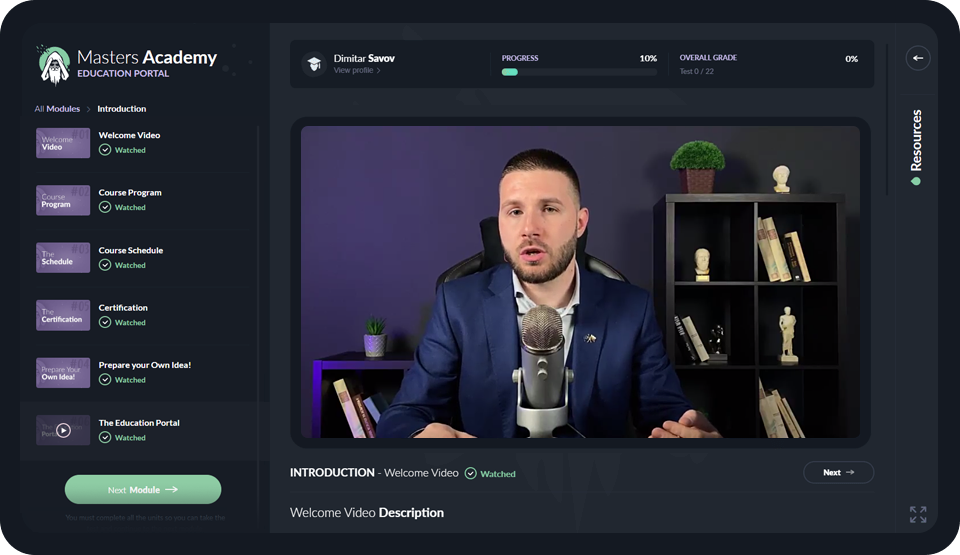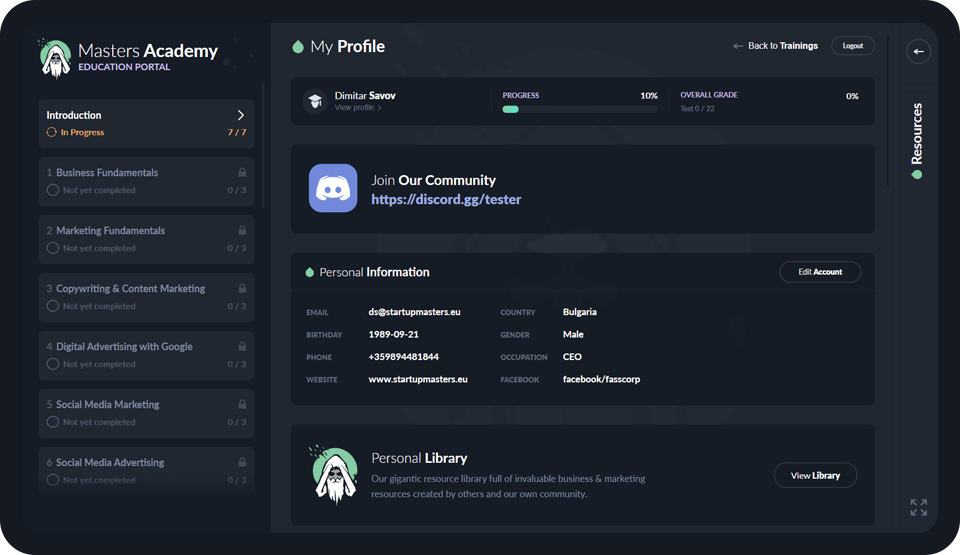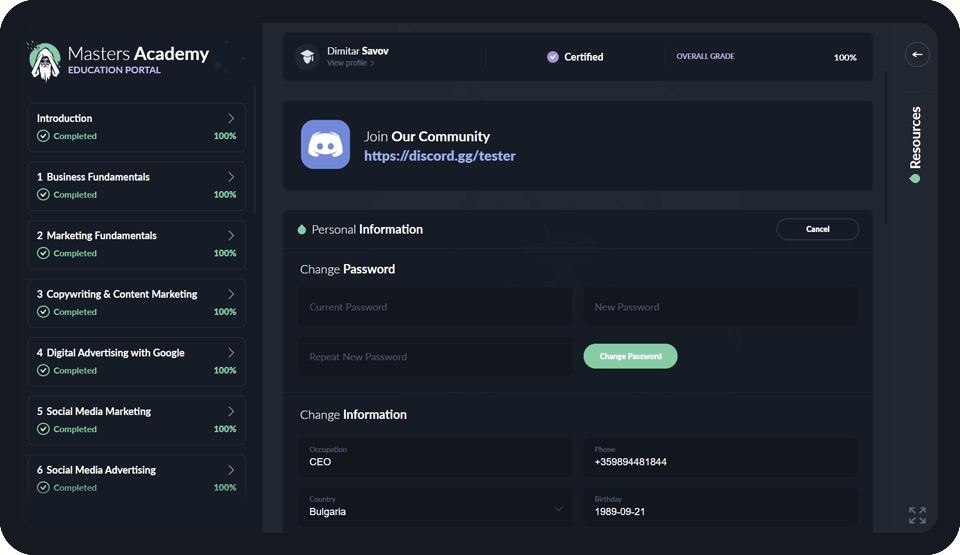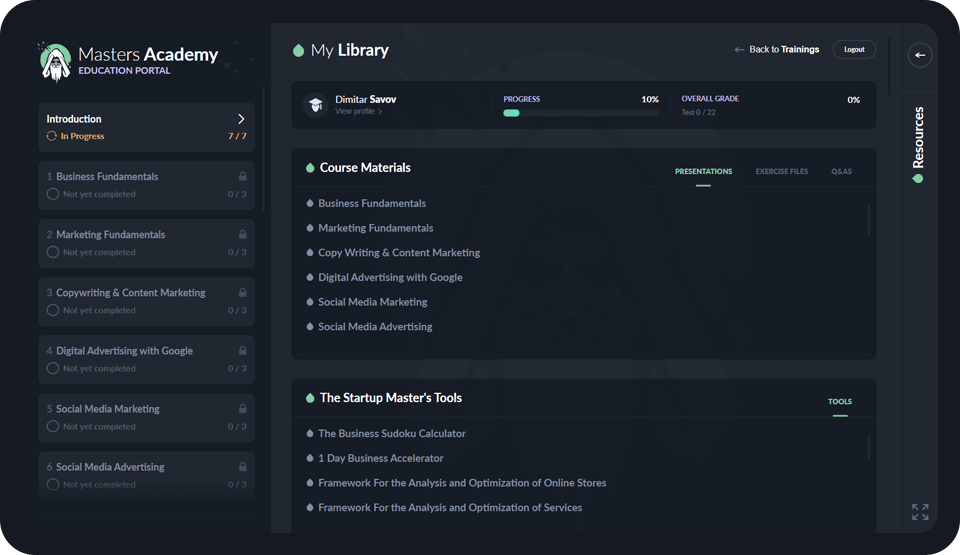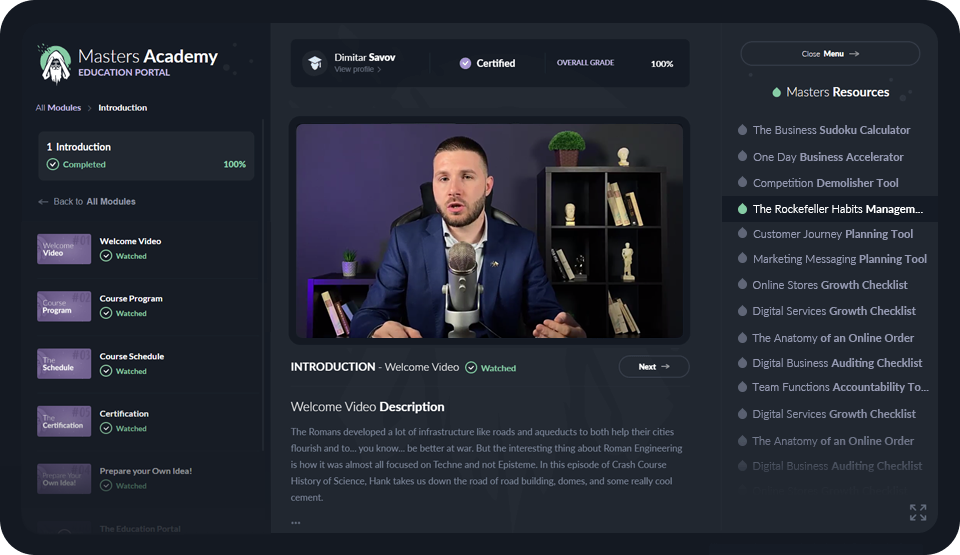 Course Overview
Let's take a quick look at what you are going to learn should you decide to take the course.
Who is this Course for
Students, Marketers, Entrepreneurs
Students who want to start working
in digital marketing

Young entrepreneurs who want to
start or grow their business

Experienced marketers & businesspeople
who want to become top marketers

Businesspeople who want to digitalise
their business and expand to the
worldwide market

Working people who want to understand
business & marketing objectives better in
order to get a promotion

Businesses who need to lower their
customer aquisition cost with digital
marketing.

Website owners who are struggling
to get traffic and sales
Course Requirements
Desire to learn and improve
No prior knowledge about business
or marketing is required.

Suitable for all types of businesses (digital
product, physical product, service,
dropshipping, B2B, B2C).

Suitable for Students, Experienced Marketers, Managers, CEOs,
CTOs & More.

Desire for Lifelong Learning &
Constant Improvement.
Why did we Create It
to show people the way
Other courses are not really comprehensive. They only cover the basics
even though they are named something like The Ultimate Complete &
Comprehensive Advanced 15 in 1 Masterclass.

Most marketing courses are created by people who have 1 or 2 successes
and don't really understand many different niches & situations. So the advice
they give usually does not apply to your particular situation.

Almost all marketing courses teach marketing without teaching Business and
the 2 are so tightly linked that you cannot study one without the other. Marketing
strategy is actually a part of business strategy not the other way around.

Marketing is connected to all areas of business: Production & The Supply Chain,
Branding & Design, Technical Infrastructure, Team performance & Execution.
Almost none of the courses available online explain those dependencies.

Digital business & marketing practices evolve so fast that even
universities like Harvard and Stanford cannot keep up.

Other courses almost never consider or explain the technical,
design, management or strategic side of the business.

Other courses ignore many of the mechanics of building and scaling a company
and with more sales you need to scale the company as well. If you don't manage to
do that the company might actually suffer from indigestion(cannot serve so many
customers) caused by great marketing and its reputation could be ruined.

Most courses are not really practical. They lack sufficently well made
exercises & practice tools for people to actually be able to apply what they
are supposed to learn.
Customer Reviews
Over the years we have tought many students in different universities and courses. All of this has led up to the creation of The Masters Academy. Here's what those people have to say!
Andrea Stefan
Masters Academy is an incredibly interesting course and Dimitar delivers the content in a very practical manner. Some of the videos were too long in the more basic topics, but I had prior experience. Overall great!
Vasko Georgiev
The Masters Academy course is incredibly well thought out. It covers every topic imaginable that's related to digital marketing and online business but in a very practical and to-the-point way. I strongly recommend Dimitar's course to anyone who is interested in digital marketing and wants to REALLY deep dive in the field and become a marketing master.
Stephanos Demetriou
Masters Academy is spectacular. I'm an accountant but I have an interest in Digital Marketing as a potential career switch. The content in the course will actually give me everything I need to make the switch. Thank you Dimitar Savov!
Emily Nash
Dimitar is an outstanding instructor. The course is easy to follow and understand, even the technical subjects. Masters Academy is amazing for someone looking to get started in digital marketing for professionals that want to increase their insight or refresh certain topics. I am already getting ready to apply some of the learnings in my business.
Lisa Cowar
I've learned an incredible amount and my skill set has more than improved. Before I had only done and had knowledge in Facebook Marketing. By taking this course I now feel like a very well rounded professional with extensive knowledge in each piece of the digital marketing puzzle.
Abdul Azees
I did not expect how much I learned from Masters Academy and I'm not even halfway through the course. Dimitar is clear and precise in every video, explaining the content in a easy to learn way.
Reilly Beezer
Masters Academy gave me the opportunity to develop a much more profound understanding of marketing than the one I had before. Dimitar explains everything very well and every video provides valuable information. This course really covers everything you need to know to become really good in digital marketing. You will use the knowledge learned in years to come!
Samantha Chaki
The knowledge and skills I obtained after completing this course have definitely increased my ability in the Digital Marketing field. I am more capable than ever before! Thank you Dimitar for devizing such a comprehensive and easy to understand course. It demystifies complex topics and presents them in an easy to understand way. I strongly recommend the Masters Academy course, you won't find a better one!
Vera Johnson
I started Masters Academy for a career change. I was a digital marketer but in China the possibilities are quite different than in the rest of the world. After finishing the academy I have solid confidence in my abilities and I am seriously thinking about starting my own business, instead of getting a job! Gread job Dimitar, I really cherish the value of the content you created.
Dorathy Oloko
I've had many years of experience in traditional marketing but I had almost zero knowledge of what tools the Digital Marketing world offered. Masters Academy gave me a clear and easy way to approach the behemoth of a subject, which is digital marketing. The step-by-step curriculum, starting from business planning and then diving into all of the required information to become a digital marketing master, is truly unique. Now I have the knowledge and skills to transform my career! Thank you Dimitar!
Trishia
Masters Academy is undoubtedly worth it! There is so much you need to learn to become a good digital marketer and this course has it all. The step-by-step modules are very well structured and helpful. Dimitar simplifies every concept so the content is easy to comprehend and perfect for beginners. Thank you!
Mike Miller
Every section of the program contains very useful information. I particularly like the Analytics part as with the insight attained, I can find valuable metrics that I wasn't really seeing before. Overall a very good investment!
David Woods
I am a computer engineer and wanted to gain some marketing knowledge in order to market my software SaaS service. After comprehending the content in Masters Academy I feel confident in my ability to market my SaaS successfully. I even recommended the course to two friends who bought instantly. Nicely done Dimitar!
Nithin Sundar
Incredibly thorough but still concise! Dimitar has put together a MEGA course that can give you all the knowledge required to become a digital marketing & business master from a complete beginner. Not only does the course contain deep knowledge and insight, but also a lot of practical exercises and tools you can't get anywhere else.
Bernard Stevenson
Masters Academy is an absolute 10/10. I haven't even finished the entire course yet, but I am certain that it will enable me to pursue a career in marketing.
Teodora Petrova
Remarkable course! Dimitar shares very useful knowledge and marketing tools. He doesn't miss out on very important tips and tricks which he gathered from 15 years of experience in Digital Marketing! Getting Masters Academy is a huge time saver - if you are to research all of the information that this course encompasses, you would probably spend years! I strongly recommend this course to all my friends and colleagues.
Expand
Load more
Showing 16 of 106 reviews